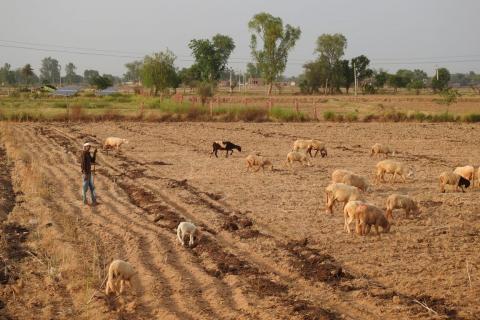 With a rising population, India is seeing a rise in agricultural land, and we often hear of instances when wildlife is harmed by farmers, or how acres of wild habitat are destroyed for agriculture.
Photo credit: Shyam Sharma
Sadly, the current situation is that wildlife (and wildlife lovers) and farmers are on opposite sides. But could we look for a way for that to change? Luckily, the answer is yes!

Photo credit: Mahesh Rajpoot
Not only are scientists conducting studies to understand how the diversity and abundance of wildlife are affected by agriculture, and working with local communities to develop more wildlife-friendly methods of farming, but there are many heroes with their boots on the ground, working hard to create better environmental and wildlife awareness.

Photo credit: Mahendra Singh
In many villages in India, it is not only birds but also many other animals that make their homes near farms, including Striped Hyena, Jungle and Fishing Cats, Asian Elephant, Langurs, and more.
Photo credit: Shyam Sharma